4750 Cleveland Rd E. Huron, Ohio
Classes, Workshops & Sound Healing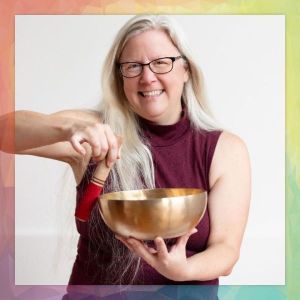 Hatha Gentle Flow Yoga
Mondays & Thursdays at 6pm
May 9th & 12th classes taught by Linda Wilson
Reconnect body, mind and spirit. Join Katie Carp of Serenity Sounds Yoga for a one hour gentle flow Hatha Vynasa class. Learn breath work and pose alignment then relax into savasana with singing bowls. Followed by a one minute meditation. For beginner to intermediate level. Pose modifications offered. Bring a yoga mat and water bottle. Props will be cleaned between classes but feel free to bring your own props: blanket, strap & blocks.
Class size is limited. Please email Katie to reserve your spot katie@serenitysoundsyoga.com
Investment:
Single class $10
8 class pass $64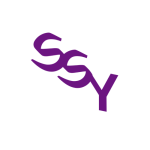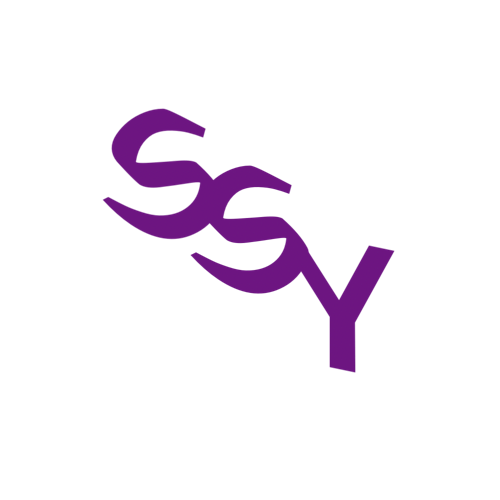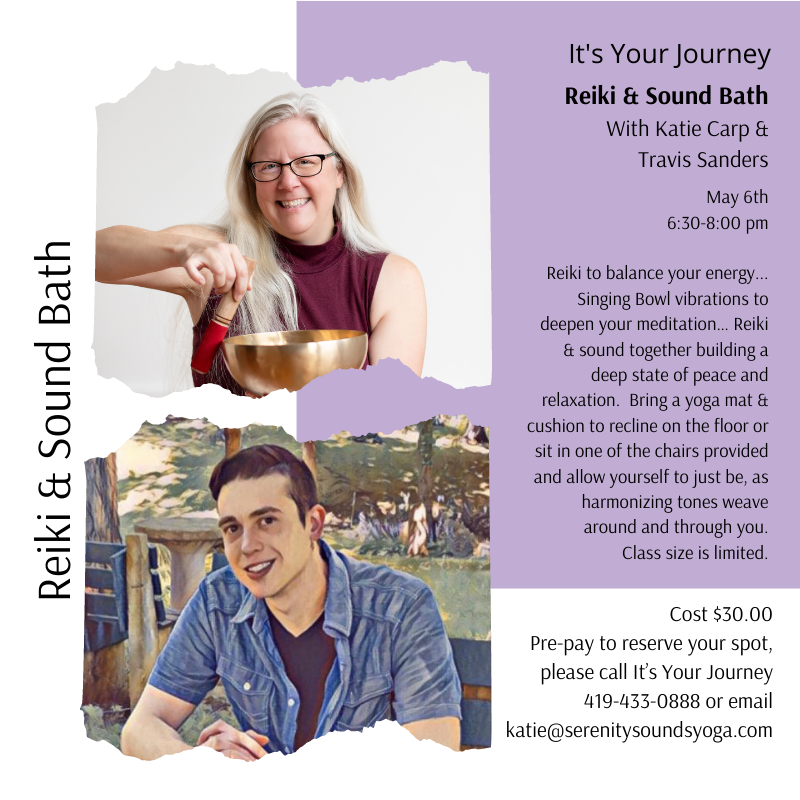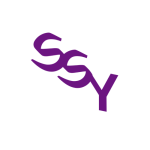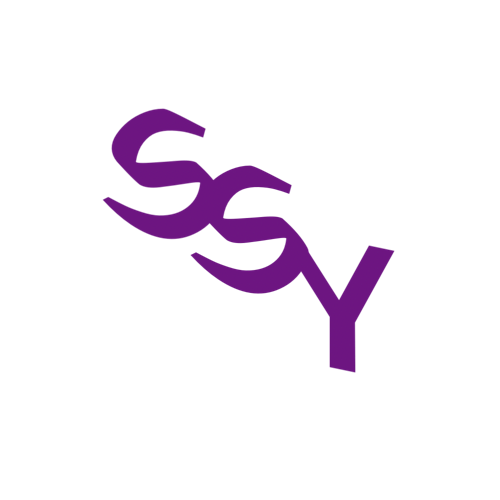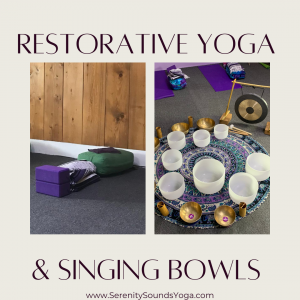 May 15
1:30-3:00pm
Breath out unwanted stress as you relax into restorative yoga.
Breath in the vibrations from singing bowls, helping to restore your inner balance and serenity.
Restorative yoga can help you drop out of the fight, flight, freeze response and into the rest and digest. Each restorative pose is set up with the idea of creating the most relaxation possible for the physical body, being fully supported with bolsters and blocks. No stress or strain on the muscles This allows you to bring your attention to the breath without distraction. This practice is accompanied by the harmonizing sounds of tuned crystal singing bowls to help create serenity and balance in mind, body, and spirit. Props will be cleaned between classes but feel free to bring your own props: bolster, 3 blankets, strap & 2 blocks. Class size is limited.
To reserve your spot, please call It's Your Journey 419-433-0888 or email katie@serenitysoundsyoga.com
Cost $25.00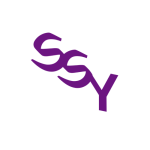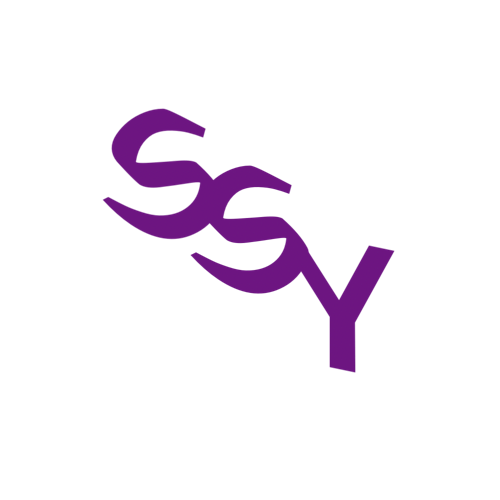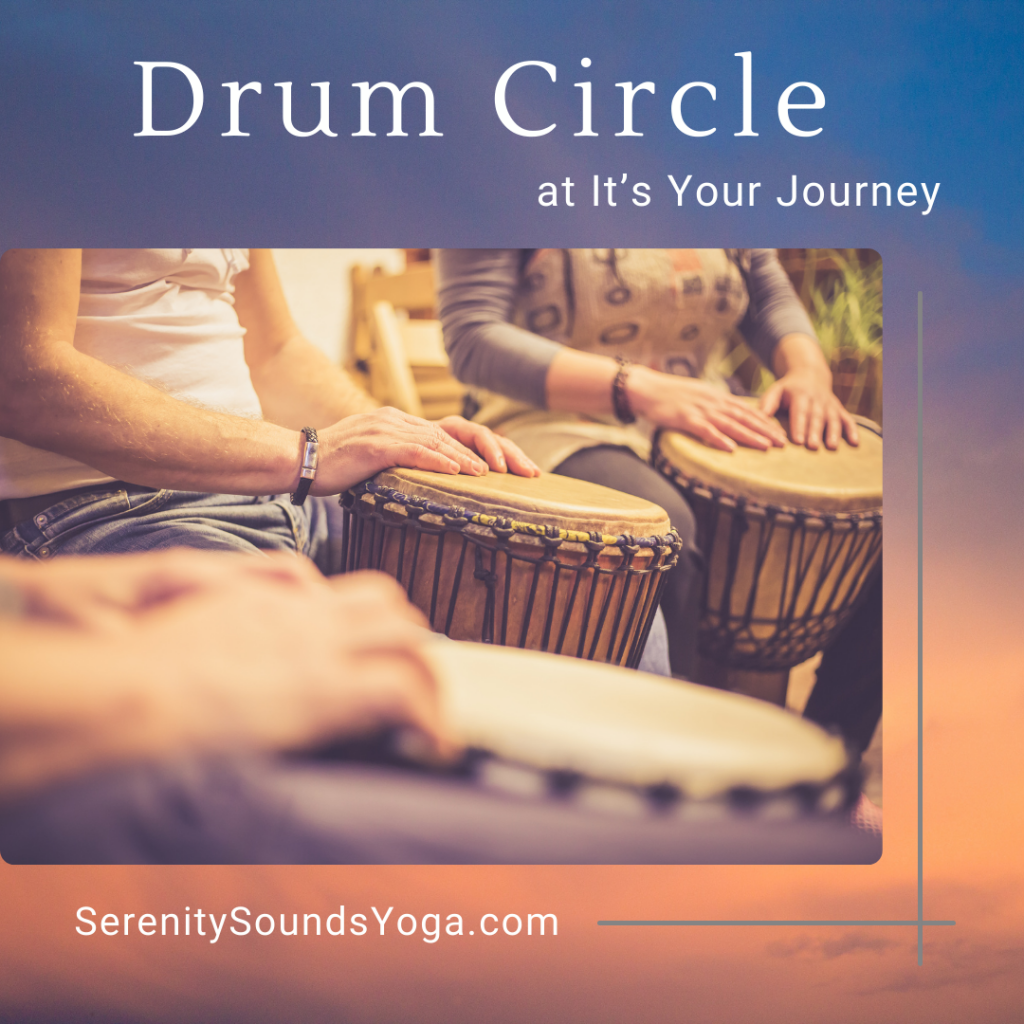 Drum Circle
Facilitated by Katie Carp
May25th, Sept 28th
6-7pm
By donation
Community in Rhythm.  No experience necessary.  Warm up with games, get into the groove with group drumming, then ground in a short meditation.  Bring your drum or percussion instrument.  Some Instruments provided.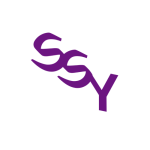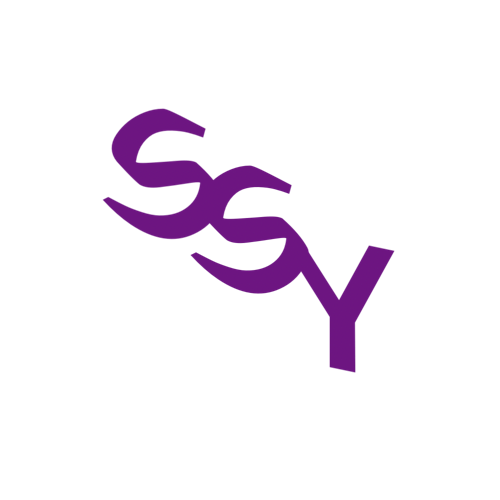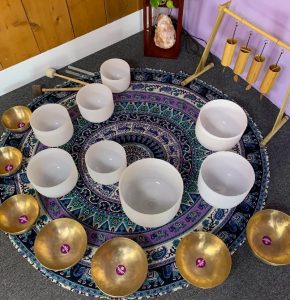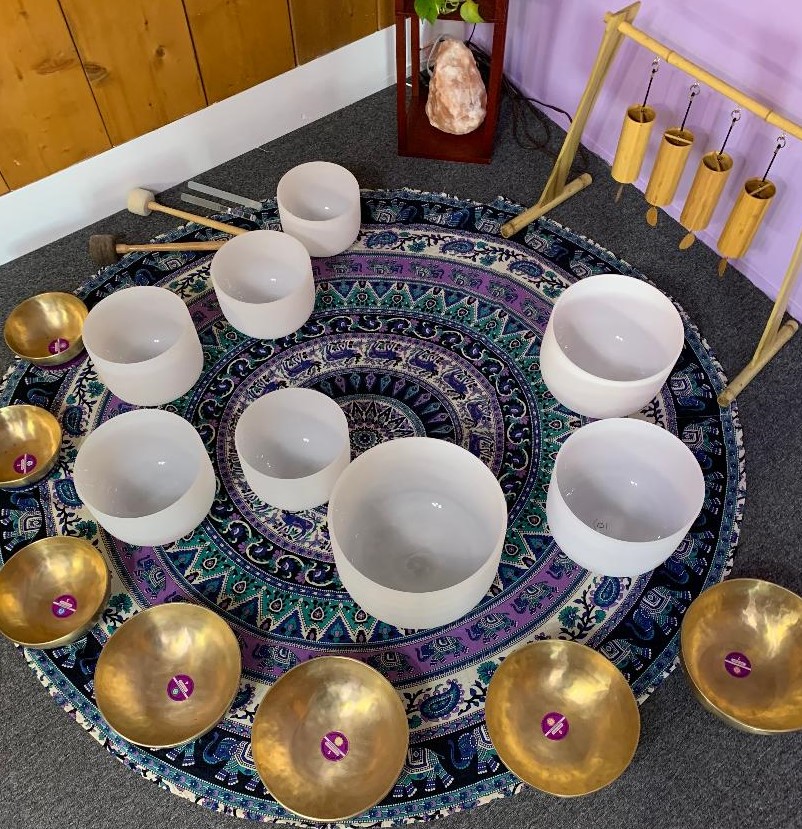 Tibetan Sound Healing
Individual sessions by appointment
To schedule email Katie@serenitysoundsyoga.com
Tibetan style sound healing goes deep into the body. The vibrations intertwine with the Chakras on a subtle level balancing and harmonizing. Katie Carp has a level 1 certification from the Maayaa International Healing School. She uses traditionally made hand hammered Tibetan bowls bathing you in the vibrations. A sound healing can be beneficial but it is not a substitute for a Doctor's care. Props will be cleaned between appointments but feel free to bring your own props: bolster and 3 blankets.
$30 for ½ hour
$85 for three 1/2 hour sessions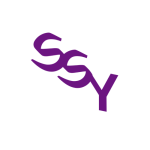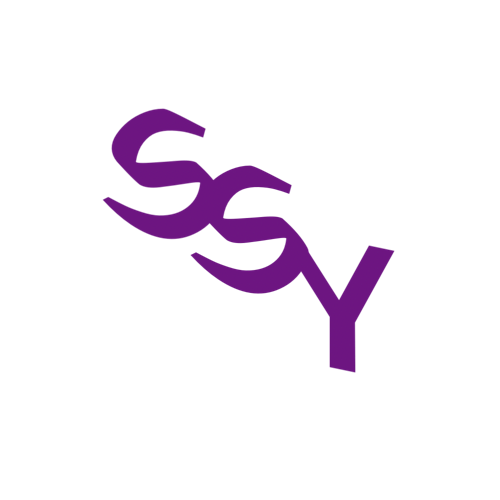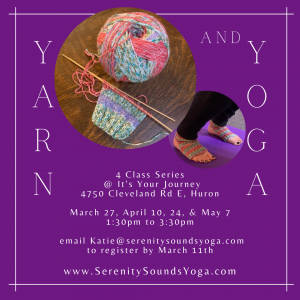 Yarn & Yoga
Stay tuned for a crochet project in the Fall
Now in session – March 27, April 10, 24, & May 7
1:30-3:30pm
Cost $84
At each Yarn and Yoga session, practice a one hour yoga class for knitters then settle in to knit for an additional hour. We will be knitting in the round a pair of yoga socks to keep your feet warm while you practice. All supplies will be provided from CastOn the local Yarn shop in Vermilion to make a pair of yoga socks.
Pre-pay to reserve your spot, call It's Your Journey 419-433-0888 or email katie@serenitysoundsyoga.com for details
Cost includes: all 4 Yarn & Yoga 2 hour sessions, a skein of Bamboo Pop Sock yarn, #2 & #1 double pointed needles. and Yoga Sock pattern. Knitting skills used: Elastic Cast on, Cable Cast on, Knit, Purl, Cast off