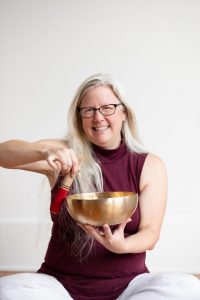 Katherine (Katie) Carp 
RYT 200 certified yoga teacher and owner of  Serenity Sounds Yoga LLC.
I started practicing Hatha Vinyasa yoga in 2011,  after I was diagnosed with stage three breast cancer.  I walked into my very first yoga class and learned that for one hour and fifteen minutes I could stop fighting.  My yoga mat became a place where it was ok to forget the struggles and to just be.   To me Yoga is a source of Strength, Confidence and Serenity.
I received my first singing bowl as a gift from my Mom and Dad.  I was hooked from the start.  The sound hung in the air long after one stopped playing.  Today I have a collection of 6 bowls that I love to use in an extended savasana.  The bowls are a great tool for meditation.  For me they have a calming and soothing effect.
I teach a gentle flow class,  focusing on pose alignment and breath. My class provides a head to toe stretch while building strength.
 ~  Katie Carp