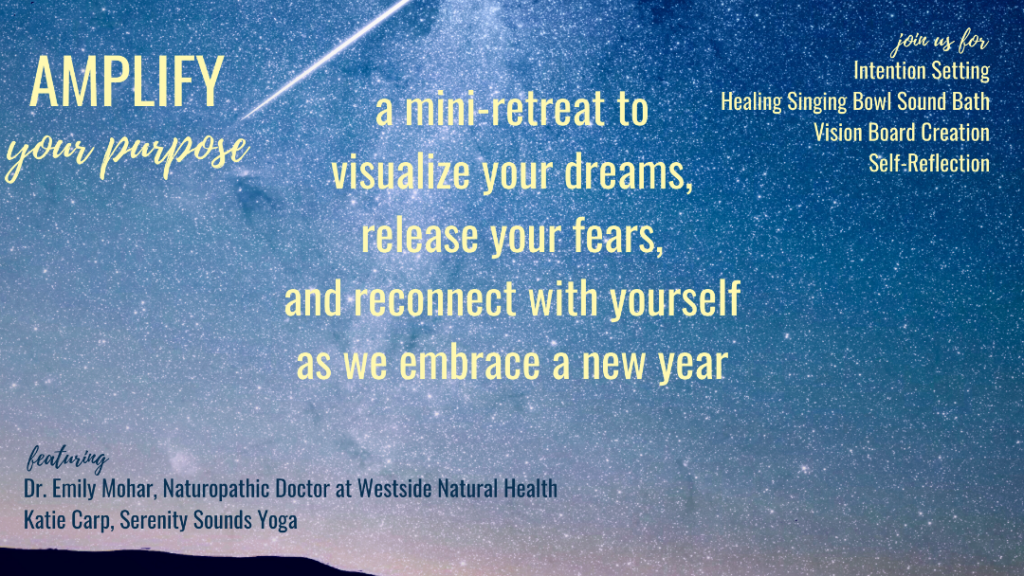 Saturday December 28th 
9AM-12PM
Join Dr. Emily Mohar and Katie Carp, of Serenity Sounds Yoga, for a mini-retreat to reconnect with yourself and your inner purpose as you set intentions for the New Year. This interactive event incorporates meditation, visualization, journaling, and vision board creation. You will experience a healing sound bath with Tibetan and crystal singing bowls.
Learn the brain science behind how goals work and how our fears keep us from becoming our greatest self.
Uncover your dreams and fears through journaling.
Amplify and clarify your intentions during a healing Tibetan and crystal singing bowl sound bath.
Visualize and concentrate on your specific intentions by creating a vision board to take home.
Sip brain boosting herbal tea and focus on your purpose.
Identify your own obstacles and fears that keep you from becoming your best self. Leave with a personalized flower essence formula for you to take home to help you overcome these qualities.
Cost: Sliding Scale (pay what you can) $45-60 includes vision board supplies, a one-month supply of your personalized flower essence formula, and other surprise goodies to remind you of the intentions you set
Pre-registration is required
RSVP by email WestsideNaturalHealthCLE@gmail.com
or sign up online at https://WestsideNaturalHealth.as.me/AmplifyYourPurpose
Location: Sat Nam Studios
753 Avon Belden Rd, Avon Lake, OH 44012
On site parking available, please note you must climb stairs to enter the studio space