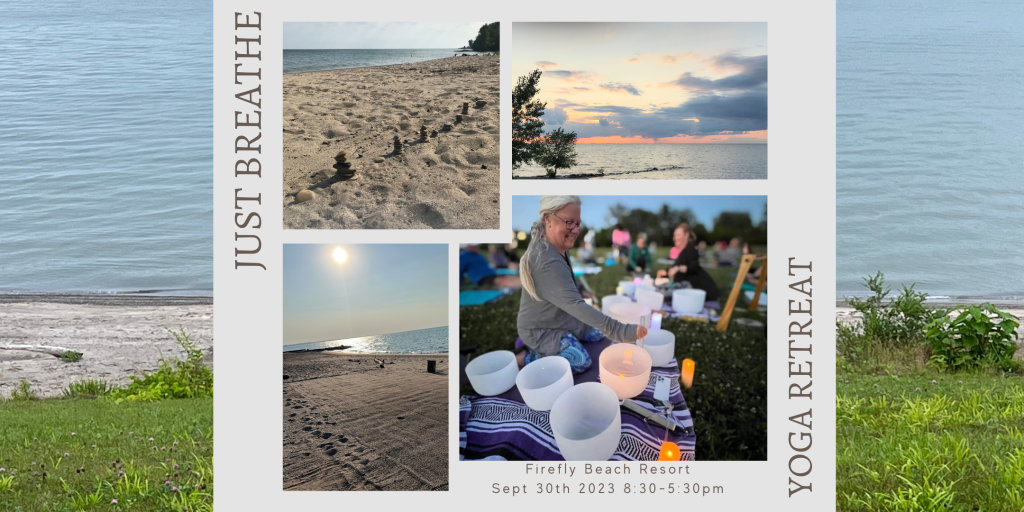 Hello Yogis,
This September I am hosting my first ever yoga retreat. We will spend the day at Firefly Beach Resort in Huron Ohio. I have brought in 4 wonderful ladies to put together a day of breath, movement and nurturing. Starting off the morning with a gentle flow yoga and meditation session on the beach. We will meet with Janet to talk Healing Energy and Linda will walk us though painting a Mini Mandala on a rock. Round the day off with a full Sound Immersion. Both Lora and I will bring our Singing Bowls, Gongs, Chimes, and Native American Flutes. Sit back, relax, and let yourself be immersed in sound.
Aries will be mixing up special coffee and tea concoctions for a morning tea offered with snacks. A vegetarian lunch will be served made from organic or locally sourced foods, and snacks for the afternoon. All events will take place outside, from the beach to the covered pavilion.
Grab an old sheet, your yoga mat, & insulated cup and join us for the day. Invest $165.00 in yourself. Email Katie to reserve your spot.
If you would like to extend your stay, cabins are available for rent for a two night minimum. Go to Firefly Beach Resort website to book your rooms. Cost of cabin stay is not included in the price of the retreat.
Get all the details on the website or newsletter
See you on the beach,
Katie
P.S. I have been getting reports of people not receiving an email reply from me. If you are expecting an email from me be sure to check your spam folder.