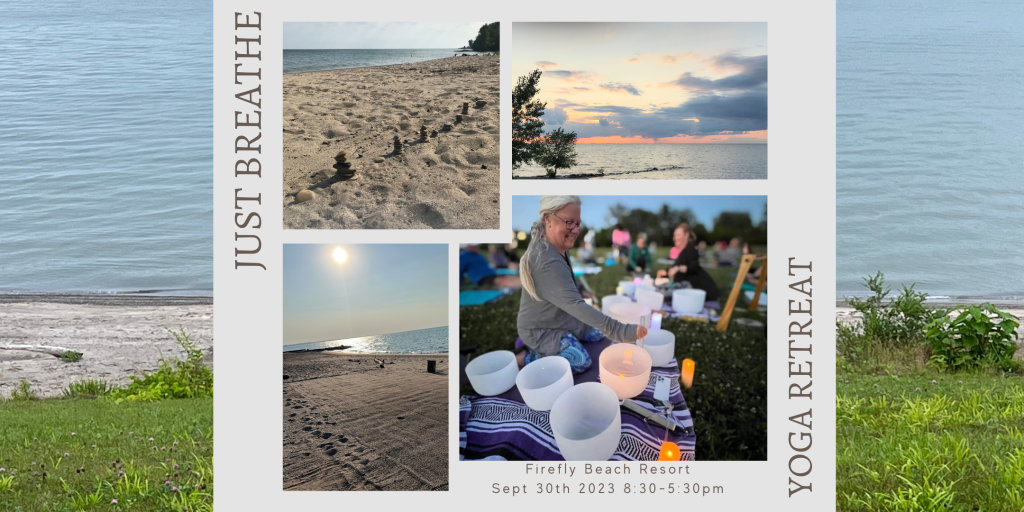 Saturday, September 30, 2023
08:30am- 5:30pm
Firefly Beach Resort
4903 Cleveland Road East, Huron, OH 44839.
Take a break from the hustle and bustle of daily life and immerse yourself in a day filled with tranquility and mindfulness. Katie Carp will guide you through an inspirational and calming yoga session, designed to help you find balance and inner peace. Learn about the different modalities of healing energy. Nurture your creativity as you paint a miniature rock mandala. Complete the day immersed in sound.
Throughout the retreat, you'll have the opportunity to connect with like-minded individuals who share a passion for yoga and well-being. Engage in meaningful conversations, make new friends, and foster a sense of community.
Indulge in healthy and nourishing meals, specially prepared to enhance your well-being. Savor the flavors of delicious, organic food that will fuel your body and leave you feeling energized. Food is locally sourced where possible. Please let us know at the time of registration if you have any dietary restrictions.
Enjoy the fresh air and take advantage of the beautiful surroundings during breaks. Explore the picturesque landscapes, stroll along the beach, or simply find a quiet spot to meditate and reflect.
Whether you're a seasoned yogi or new to the practice, the Just Breathe – Yoga Retreat offers a welcoming and inclusive environment for all. So, come as you are and embark on a journey of self-discovery and relaxation.
Invest $165.00 in yourself.
Tickets will be on sale until Sept 27th.   Email Katie to reserve your spot. Purchase tickets through PayPal code (@serenitysoundsyoga), Venmo code (@Katherine-Carp) or mail check to Serenity Sounds Yoga, P.O. Box 311, Vermilion, OH 44089-0311
Beach Yoga & Meditation ~Connect body, mind and breath in a gentle flow yoga class and meditation. Katie Carp of Serenity Sounds Yoga will lead you through yoga poses one breath at a time with step by step guidance. Then rest into savasana & meditation with singing bowls.
Introduction to Energy Healing ~The introduction to Energy Healing will provide you with information about the human energy systems, some energy healing modalities, theories about how it works and an experience sensing your own and others' energy fields with your hands. We will conclude with a brief Qi Gong session to balance and amplify your energies for the rest of the retreat.
Mandalas Rock! ~the cultural significance of the mandala ~Learn to surrender to the creative process of creating a miniature rock mandala. Explore color possibilities, design, and allow mistakes to be part of the process. ~Linda Wilson
Sound Immersion ~ Complete your day with a full ensemble of sound. Double the signing bowls as Lora Roeser & Katie Carp play multiple sets of singing bowls, gongs, chimes, & Native American flutes.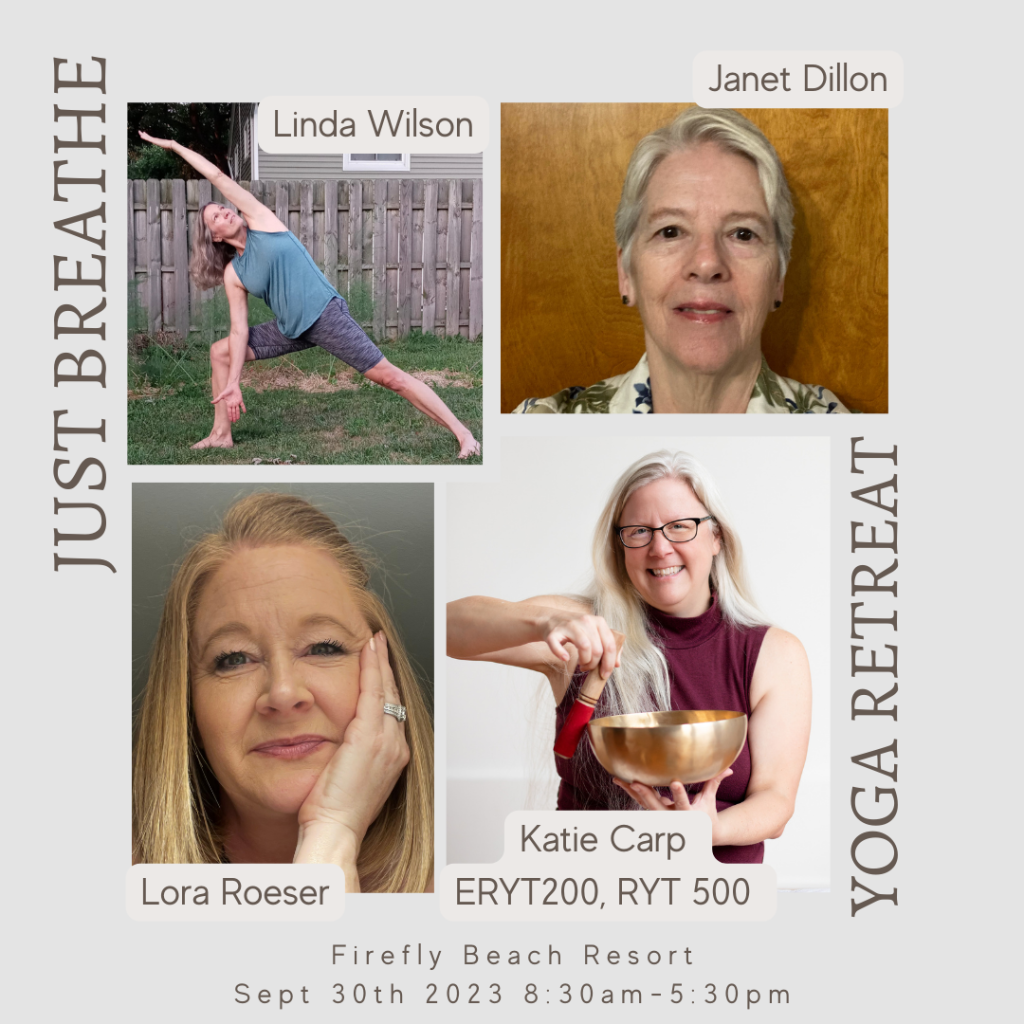 Katie Carp (RYT 500)~ Katie started practicing Hatha Vinyasa yoga, after she was diagnosed with stage three breast cancer in 2011. Katie walked into her very first yoga class and learned that for one hour and fifteen minutes she could stop fighting herself. Her yoga mat became a place where it was ok to forget the struggles and to just be. She started teaching yoga to create a space where people could experience this feeling. A moment in time to feel Strength, Confidence and Serenity just as they are. Sound has been an important part of her journey, she incorporates singing bowls into her classes. The notes of a singing bowl linger in the air long after the bowl is played. The soothing vibrations allow for a deeper meditative experience.
Janet Dillon ~Janet is a retired RN who discovered an interest in energy healing while a student nurse. 50 years later she combines training in many healing modalities, including Reiki, Healing Touch, Sacred Essences and oils, Crystals, Hypnotherapy and more, to create an experience which supports each person's healing process.
Linda Wilson ~Linda is a retired RN, art educator, 200 hr YT, and reiki master. I enjoy all things yoga, and revel in nature and art.
Lora Roeser ~Lora is a believer in the healing and restorative powers of both body and mind through such holistic practices as use of all naturally sourced essential oils and the powerful beauty of sound. She is skilled at playing an array of quartz crystal singing bowls as part of a sonic immersion in elegant, healing sound. Through use of the natural frequency properties of the bowls, Lora produces harmonious vibrations that soothe both body and mind. Her background and expertise as an essential oil representative with DoTERRA allows Lora to use and combine premium grade essential oil aromatherapy and touch therapy as part of a fully immersive, holistic sensory experience. Skilled and trained in the resurgent lost art of holistic healing through essential oils, Lora's extensive collection of essential oils not only delight the olfactory senses, but each contains a myriad of holistic healing and health properties when administered and used as directed topically, aromatically, or internally. An indulgent delight to the ears, nose and whole body, the full immersion in the combination of singing bowls and professionally paired essential oils are sure to sooth, restore and energize the body, mind and spirit.
Aries Weisenberger ~Aries enjoys mixing up fun coffee drinks. She will be our barista for the morning and assist where needed throughout the day.
Frequently Asked Questions
What are the day's activities?
Breath, Movement, & Nurture

Register at the Pavilion
Beach Yoga & Meditation
Morning Tea
Intro to Energy Work
Lunch
Beachcombing
Mandalas Rock
Sound Immersion
What should I bring?
Old sheet/ Blanket
Yoga mat/ beach towel
Insulated Cup/ Water bottle
Sunscreen
Dress in layers
Restrooms?
We will have access to restrooms in the Beach glass cabin for the day and in the old tavern.
What happens if it rains?
The retreat will go on rain or shine. All activities would take place under the pavilion.
Is lodging available?
Cabins are available for rent for a two night minimum. Go to Firefly Resort website to book your rooms. Cost of cabin stay is not included in the price of the retreat.
What is the cost for the day?
Invest $165.00 in yourself
Tickets will be on sale until Sept 27th.
 Email Katie to reserve your spot.
Purchase tickets through
PayPal code (@serenitysoundsyoga),
Venmo code (@Katherine-Carp) or
Mail check to Serenity Sounds Yoga, P.O. Box 311, Vermilion, OH 44089-0311
What is the refund policy?
No refunds will be issued but you can re-home your ticket. Reach out to me, if I have a waiting list I can assist you in finding a home for the ticket.
Have a question that wasn't answered?